PAWSOME NEWS, RATINGS AND REVIEWS
Collectibulldogs news A dog house has been found
Hi there readers I hope your all safe and well I'm just about to break a promise but I think it's worth it, i have the news that I have found us all a new place to live, Collectibulldogs is on the move!!! That's right great news I'd agree in saying.
GREAT NEWS
The apartment is closer to the beach, it's literally on the same road as my wife's work place, and happiest for me is the fact my daughters education will now not be effected by moving further away, the apartment is third floor so it's safe and there's a cafe below that allows dog owners to take their dogs in there.
Collectibulldogs.com at Brighton museum
I could see myself having a morning tea and finding inspiration in this cafe just sitting there in my PJs and not having to use shared wifi when mines just upstairs, being closer to the beach will give me the self esteem to get out more with my camera and if nothing jinxes the new place I can see us being happy there.
Smaller but work with what you have
The new apartment is a little smaller than our current place that's the only bad news, so we will be giving a lot of our furniture away to charity and starting again, the reason is not the flat size but the stairwell leading to the apartment, this narrow walk space will not allow most of what we have so re kitting a new apartment is going to take time and money.
We have already started looking at new cabinets which has been fun they have to be more modern and streamlined to fit up all those stairs but I surely do not mind my best pieces looking fab in proper glass display cabinets, I may have to be choosy and put the rest away but that's ok as long as there are bulldogs everywhere.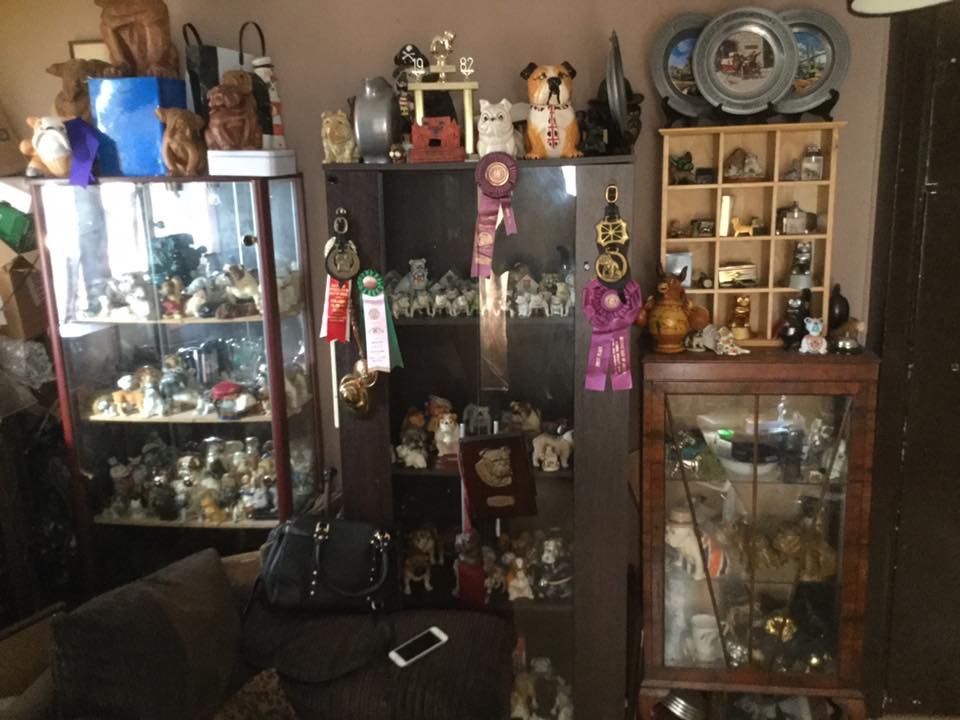 CONTINUED…..
I cannot wait to get to the new place sort out the wifi and give everyone the grand news that we have finally moved in and all safe and sound, we have been told it can be Loud at night with rowdy pub crawlers and the seagulls but that's not a problem we are used to living in a bustling area and look forward to the new noises and the Big bonus here is I'm on the same street as antiques shops !!! Now that's cool.
So I would suggest the beach will feature in future articles and as I nearly had to move out Of the city I love I'm going to cherish each day and vow to do at least one thing a day even if it's going for a brew somewhere or taking the camera along the prom as you can tell I'm very grateful and for many reasons.
Collectibulldogs a new concept one of a kind
THE NEWS IS I CANT DO CALL TO ACTION CAMPAIGNS
IM PLAIN STUPID OR STUMPED!!!! I have a brilliant following with new members sometimes 100s a day and for some reason no one wants to rate us??? This is disheartening as it only takes a minute and im not asking for much really and people don't have to write much if they do not wish, as long as we get good stars the written part takes a back seat yet it's inspiring to read comments left.
Shall we try one more time let's see if a call to action will work I can provide the links, and tell you why that particular format is important to our rankings and standing in the world of unpaid promoting ventures that relying entirely on organic pushes and word of mouth.
REVIEWS PLEASE
The First reviewer and the most important out of the two is WWW.TRUSTPILOT.COM this is googles affiliated top review format, when you rate us here our score is added up and once we have enough we are deemed to be seen and our online ranking goes up and we become just that little more easy to be found instead of continually putting ourselves out there to be seen.
TRUST PILOT NOT ONLY HELPS US ON GOOGLE RANKINGS BUT WILL PROVE TO ANY POTENTIAL INVESTORS NEXT YEAR THAT IM ALREADY A LITTLE ESTABLISHED AND WILL JUST LOOK MORE PROFESSIONAL WITH US PROVING WE CAN WORK WITH OTHERS AND WORK WELL
WWW.YELL.COM is the soon to be (online only) leading directory in the uk but if you are not in the uk it does not matter the website is here so there's no hardship searching and reviews can come in from anywhere across the world, to get more ratings on here would mean every time someone uses my specific key words or similar I will rank higher than other locals in my area and beyond.
Yell the uk directory that can viewed across the world 🌎 we really look forward to at least a couple now I've made it nice and clear what's needed…
Youtube and 10,000 views news
I've mentioned Youtube a few times now and after some research I have learned there is the reward of monetary value after you have received the 100k views, now I've been thinking if I can urge my following on all formats to watch at least 1 YouTube clip it should not be that hard but as experience tells me my call to action campaigns are weak most of the time.
Please help us reach that all important magic number in views get sponcered and used by the likes of ad sense and get paid by YouTube to keep adding content. I'm open to suggestions here 👍
If you folks were to help me the funds would go to turning the collection into said wished social enterprise and sit back and watch as it travels around the country from gallery to museum and finally if things go well my dream come true.
Beautiful bulldogs old and new
DREAM ON BRIGHTON BULLDOG MUSEUM
The idea of opening a fully official bulldog memorabilia museum is a big dream for me only second to my daughters future happiness and the money made on YouTube can be saved as some kind of trust till we have enough to approach our council with a business plan that will get me safe premises and they get a revenue,
LASTLY TO RECAP
So help us get more clicks get seen better on rankings please use yell.com and more importantly Trustpilot.com and give us a spanking great review and remember every clip view from you folk at the collectibulldogs channel is one view closer to the channel paying for itself and future ventures, I'm unable to review from every computer and gadget so I'm really hoping some of you good people can be compassionate enough to lend your support.
Before I go I have to admit I'm quite excited about the move, our lifestyles will need to change a bit but I'm looking forward to the day when I can blog about the new cabinets filled and then back to normality with some collecting, researching and basically carrying my venture on till either I can afford to move us forward or investment does. But until then stay safe and happy collecting folks.
Normally each blog that I write I pick three random links but as I need the YouTube views it's just one this time, clanimal is just like collectibulldogs it takes the doggy world down a new path enjoy 😊
Wiggles walking 500 miles
Collectibulldogs wiggles n dad
Relatable content click to continue
IF YOU GOT THIS FAR AND VIEWED LIKED OR SHARED ANY OF OUR YOUTUBE CONTENT 😌 GOD BLESS YOU AND THANK YOU VERY MUCH !!!