Call to action campaign are you with me?
Call to action world wide support needed 
Hi there readers regular and new I hope your all well and good where ever you maybe and yes I say it a lot but I really do hope all is well with everyone, I came up with this idea to pitch a page of blog urls and I'm hoping that you kind readers will help me and follow my call to Action.
The blogs that I've written go back to 2015 but do not forget a lot of my viewers are new and it gets boring for some going through the pages so I'm going to bring these pages to you, I've compiled a wedge of my best content and I'm hoping you will help.
New links urls
There's a two pronged approach to this idea, firstly you folks get to read/ bookmark
blogs many haven't seen or read yet and the call to action part is that you good folks share these out to all the formats you maybe on, this is just a trail I'll start with ten blog articles and see what happens.
I've taken an hour or so going over my content and I'm actually quite happy with most of the content I have published, the main idea is because so many are missing out on amazing pictures that might not be in galleries or read certain blog posts yet.
Please Take action
If your on any of the formats attached to the website and find a category that a blog will fit please do, if you think a certain blog might interest your twitter feed I'm urging you to share, same with Facebook and all the other formats you will see that I'm on in the picture, I cannot pay for paid promotion until this time next year so I'm hoping even if my following is silent that you would still want to help.
Here's a mixture of raw urls leading to blogs old and new, I will put out ten and let's see what that does to the analytics, I would love nothing better than to teach myself SEO and write super blogs as my buffering tool states I have the opportunity to reach half a million readers, could you imagine having that much interest it would be amazing.
In a perfect world I would be able to afford paid promotion but that's just not the case ATM and I've come to the conclusion that Collectibulldogs isn't for everyone but to those it means something too your reaching out could create organic interest in far off places that haven't heard of us yet.
Publicity for the display
I think the museum have the publicity side down when it comes to this years soon to be display, this campaign is basically to get my blogs/ pages out further and in a passive way to see if anybody does help, I've never been good at campaigns let's see what happens to this one, if you take part. Share like reblog etc then I wish to thank
you for your help.
1 Have a great week collectors
2 A sweet blog about Father's Day with a small part from my daughter
3 Proof that we allow many topics this guest post is about the History of cats
4 My first failed attempt at reaching out
5 How would you characterise your collection
6 I was so happy when Brighton Museum gave me a link it validated all my work
7 Check out my prowess and creativity
8 One of our gallery segments is all about metal pieces
9 Sometimes things go well and sometimes they bite you in the behind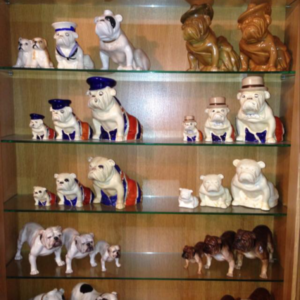 the action begins
There it is folks ten links to blogs that all have sharing capabilities and the more that get liked, shared, commented on the better, if I'm honest I do not quite know how to market myself and I'm so niche it's hard to fit in anywhere, shame really as I feel the collection should be recognised.
As far as things are now thank you to all the Facebook group moderators that have excepted me, I'm not well liked in some groups I think it's a language barrier or the concept of collecting isn't in their mind set, thank you to my twitter followers past and present I've worked hard to grow my following organically and hoping for 50k by the time the display starts.
When my display is open to the public there will be two tech exhibits one will be slides of various pictures from bulldog anotomy to famous
paintings, and my other exhibit is going to be this " Collectibulldogs " , I'm hoping for a decent following on all my formats to show just how hard I've worked by myself to promote the website.
Lastly background image action
When I was bought my I book by my wife I started looking at the website from a desktop view and the Union Jack started putting me off, it had images of pieces as well to break it up but I still felt it somewhat aimed at the uk in general.  This should not be the case my website is your website and until there's a one world (all countries flag) the background will remain neutral, please note the image used now is a temporary token from lee whom is busy ATM but assures me he's graphics colleague is on the case, well here goes folks I press publish and fingers crossed.
Please note the pictures being used in this blog are and can be found in the others with 100s maybe 1000s in all to see, until next time happy collecting folks and stay safe.