Welcome to collectibulldogs.com The number one UK site for collectible bulldog memorabilia!
Welcome to collectibulldogs.com website. We take pride in owning & curating such a vast and varied selection of all things bulldog!
This site is a testament to the greatness of the bulldog breed & goes some way to inspiring others into starting their own collections and ventures.
Bulldog collectibles come in all shapes & sizes. We hope you like the range we have amassed so far from antiques, rare collectibles, art work, books & other pieces of interest.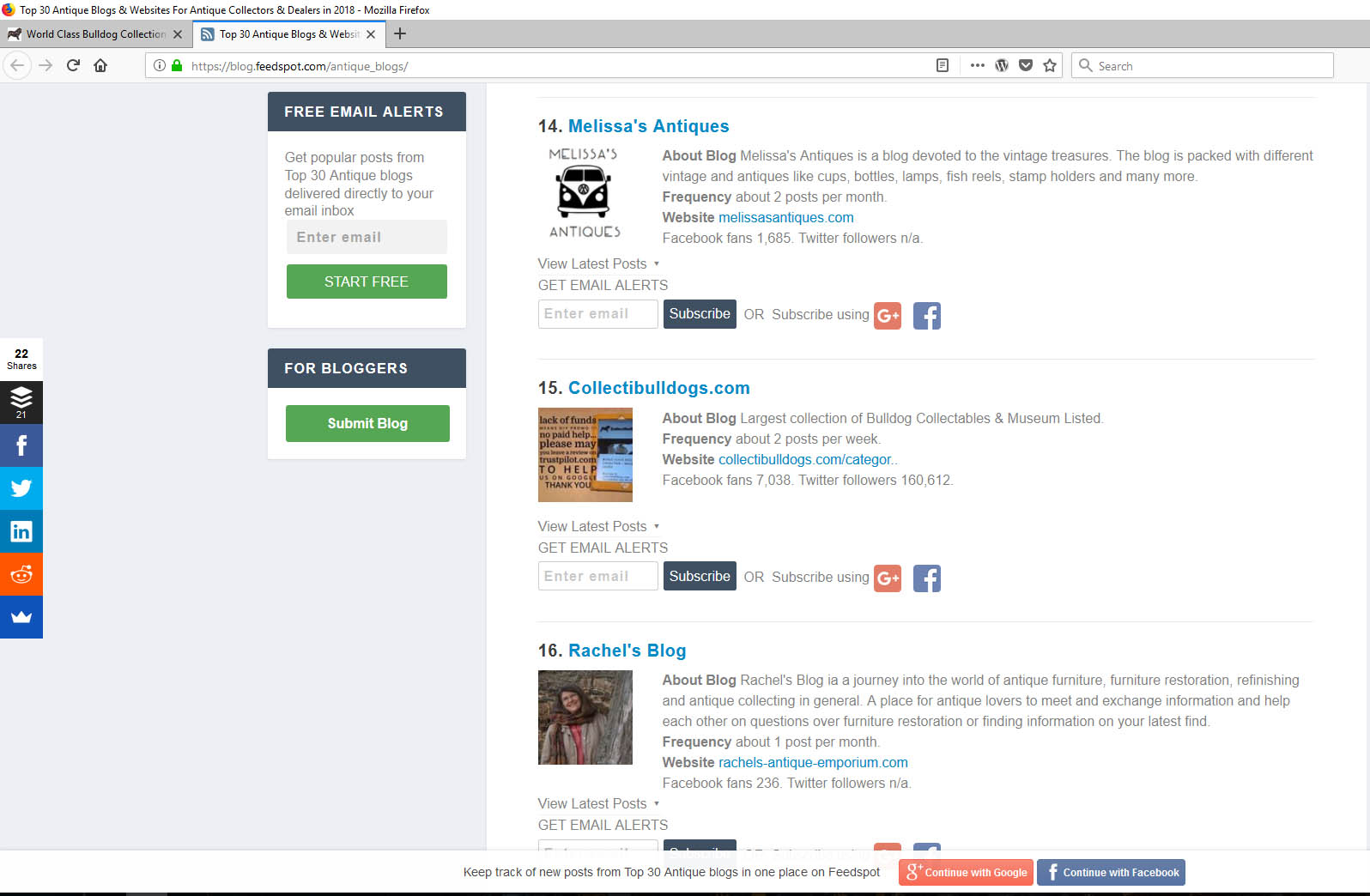 Collectibulldogs.com reaches no. 15 in Feedspot's Top 30 Antques Blogs & Websites!
We are proud to announce that we have been voted 15th in the top 30 Antiques Blogs & Websites by Feedspot.
Here at Collectibulldogs, we are ecstatic at the news of this & we hope you enjoy the website's content.
Thank you all for following us, continuing to visit us & read our blogs.
Thank you to the team at Feedspot for featuring our website!
Check out our FREE Ebook!
Want to start collecting your own collection of bulldog collectibles? Don't know where to start?
Check out our intro video!
Collectibulldogs.com Intro video
YOURS TO KEEP
Collectibulldogs has teamed up with its brilliant host
Digital Wulf
to bring one and all their very own free downloadable PDF, there's a whole 2500 images from the collection, giving everyone a small slice of collectibulldogs for their very own.
PLEASE NOTE: Loading speeds may vary due to the large pdf size.
A quick note from the curator and owner
Hi there my name's Eiffion Ashdown & I created this website so that I can share my passion for my passion in collecting bulldog collectibles and items relating to bulldog history.
My collecting started about seven years ago & have taken a back seat while I make this bulldog collectibles website which to a novice like me has been challenging. For more info about me click this link.
I hope you enjoy the site & like my pieces. I also hope it inspires others to start collecting either for love or future nest eggs. Please note it can become addictive!
[supsystic-gallery id='1′]