This site is dedicated to my bulldog Scruffy-Louise the best bulldog that could of been !!!
Please take a minute to value the friendship you have with your bullies. On the 25th of October, at 1 am, I lost my bulldog scruffy Louise suddenly and without any warning.
Scruffy Louise is an inspiration to me and that's been passed on to create somewhat of a bulldog community, and all thanks to this beautiful girl, i will grieve for her then celebrate her to say thank you for changing my life I will not put dates as to me she's still around and will spur me forward.
I just wanted this written down as she is the architect behind this all and I was just the puppet and for now a very lost puppet. Myself and the girls love you scruffy and i know you wont be far away from me…
LOVE TO ALL AND PEACE ALL ROUND XX
A Celebration Of Inspiration
Scruffy-Louise came into our life's over 8 years ago and it's been a ride ever since,she was to be our very first bulldog and a massive change to our previous chosen breed the boxer dog.
Due to my illness myself and scruffy-Louise have been inseparable with the only time apart being when I was teaching carpentry to folks with mental health issues.
Scruffy-Louise loved her home comforts had a ramp to the bed and every winters night would dig at the top of the duvet to get under crawl down and fall asleep. The only down side to this was as bulldogs cannot regulate temperature she would get out lay on top till cooled then repeat the process right through till Debbie arose then pinched her side of the bed.
Another habit my most wonderful scruffy-Louise had was this weird bum shuffle where her bottom half would have to be touching me and this came as either a shuffle game across the bed to her sticking her (windy bottom) to my leg or thigh. I can believe I'm saying this but I will miss her sneezing in my face dribbling on my iPad and stinking out the bedroom and I think the snoring and tapping on the floor will be missed the most.
Scruffy-Louise will be celebrated in my eyes and hopefully many others she may not be a champ in the ring but the gold medal does go to her for the inspiration and new lease on life she has given me and others alongside me and together have managed to accomplish lots whilst helping others.
My collection was the start of scruffy-Louise's good karma and this continued to a Facebook group and page that has had and is still of a successful format. Then there's the website the catalogued pieces my blog.
The best thing of all and thanks to Scruffy and her inspiration is that I have met new people friends contacts and even clients from all over the world since joining the bulldog world which I'm eternally grateful for. The website is a triumph for me as I made it myself under the beady eye of scruffy-Louise and is not bad for a start out website if I may say so.
I will not stop collecting but work out a way of expanding my little empire in scruffy-Louise's name and try to push www.collectibulldogs.com to the point where there's direct traffic and not just link referrals.
With scruffy now looking over me I do feel a sense of well being and I promise not to let her name down and how she changed my family for the good should be honoured and not just go in vain.I lost my scruffy Louise at 1am on the 25th October 2015 if you have furry loved ones give em just that extra kiss n cuddle when you can as you never know when it will be the last.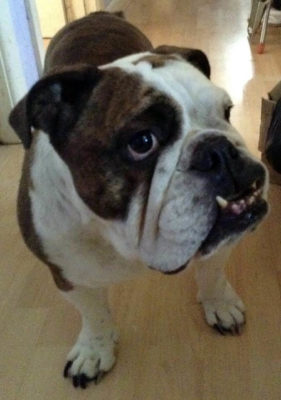 Beautiful poem from a lovely lady
A LOVELY LADY SENT ME THIS WONDERFUL POEM
I remember the day you stole a piece of my heart,with a wag of your tail, and a kiss, and a sweet little bark. I didn't know then how precious our Journey would be, and that I needed you just as much as you needed me. I wouldn't trade one minute of memories we've made.
If only God gave us the gift of unlimited days. But life times are short and we made the best of the best. And as we part tomorrow can I make one last request, wont you meet me at the gate, when I reach the other side, Oh I would love to see your face, the very moment I arrive, and you can walk me into Heaven to where my Lord awaits, when your sitting around his throne, and you see me coming home, wont you meet me at the gate.
The future without you I knew would eventually come, guess I wasnt prepared for my world to be so quite undone. Goodbyes are not easy, but this is what I am going to do, when I leave this world Scruffy-Louise I'll be watching for you.So wont you meet me at the gate, when I reach the other side I would love to see your face the moment I arrive.you can walk me into Heaven to where my lord awaits.